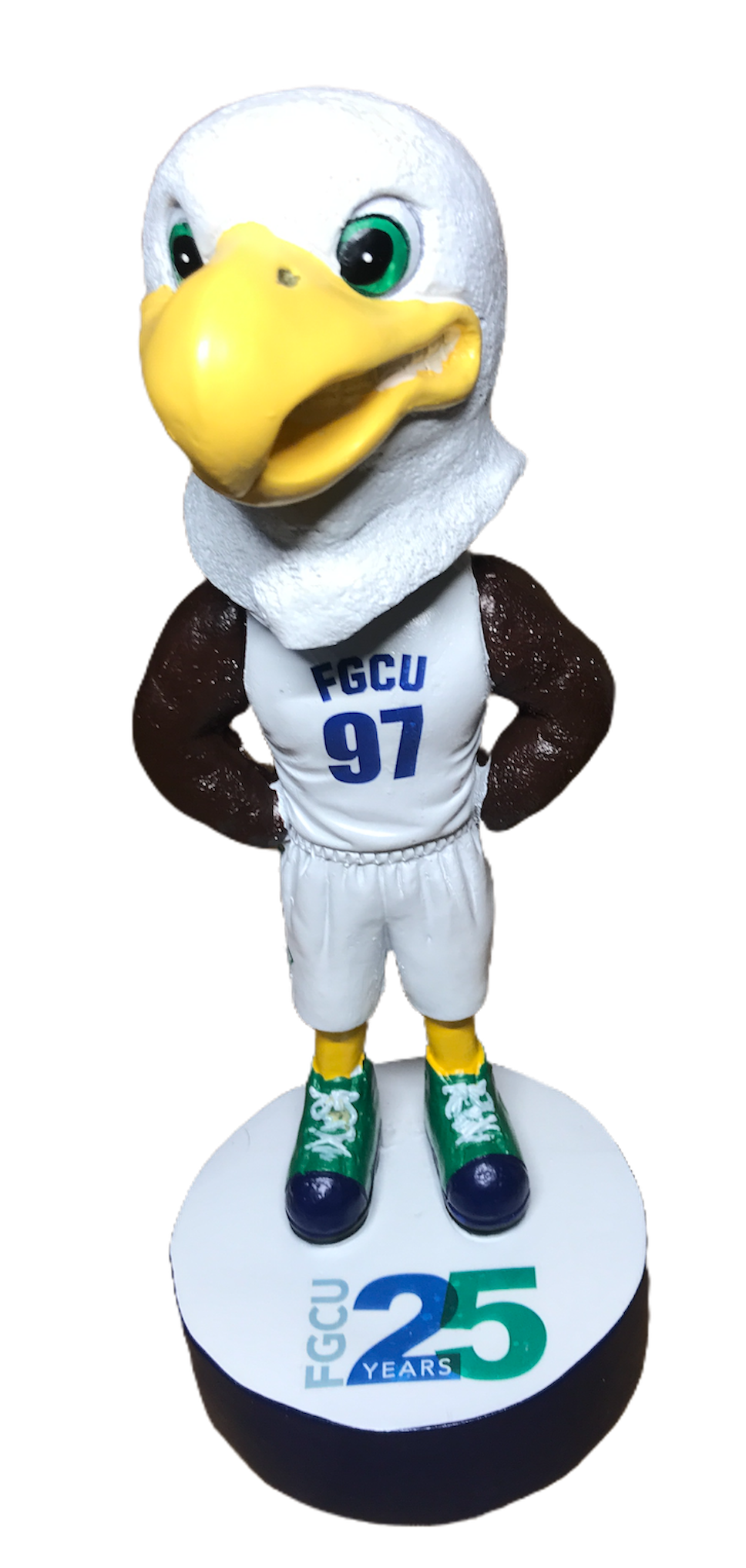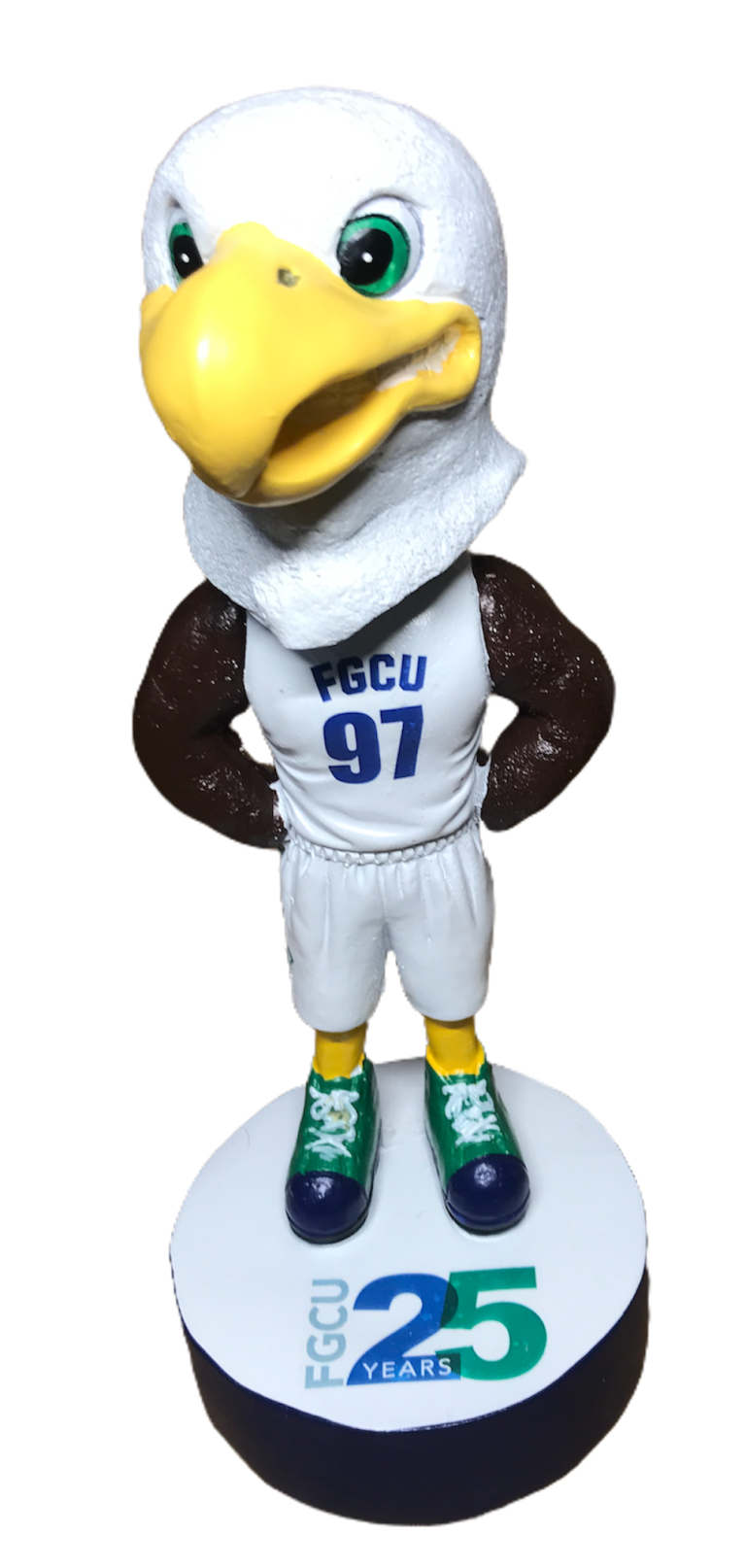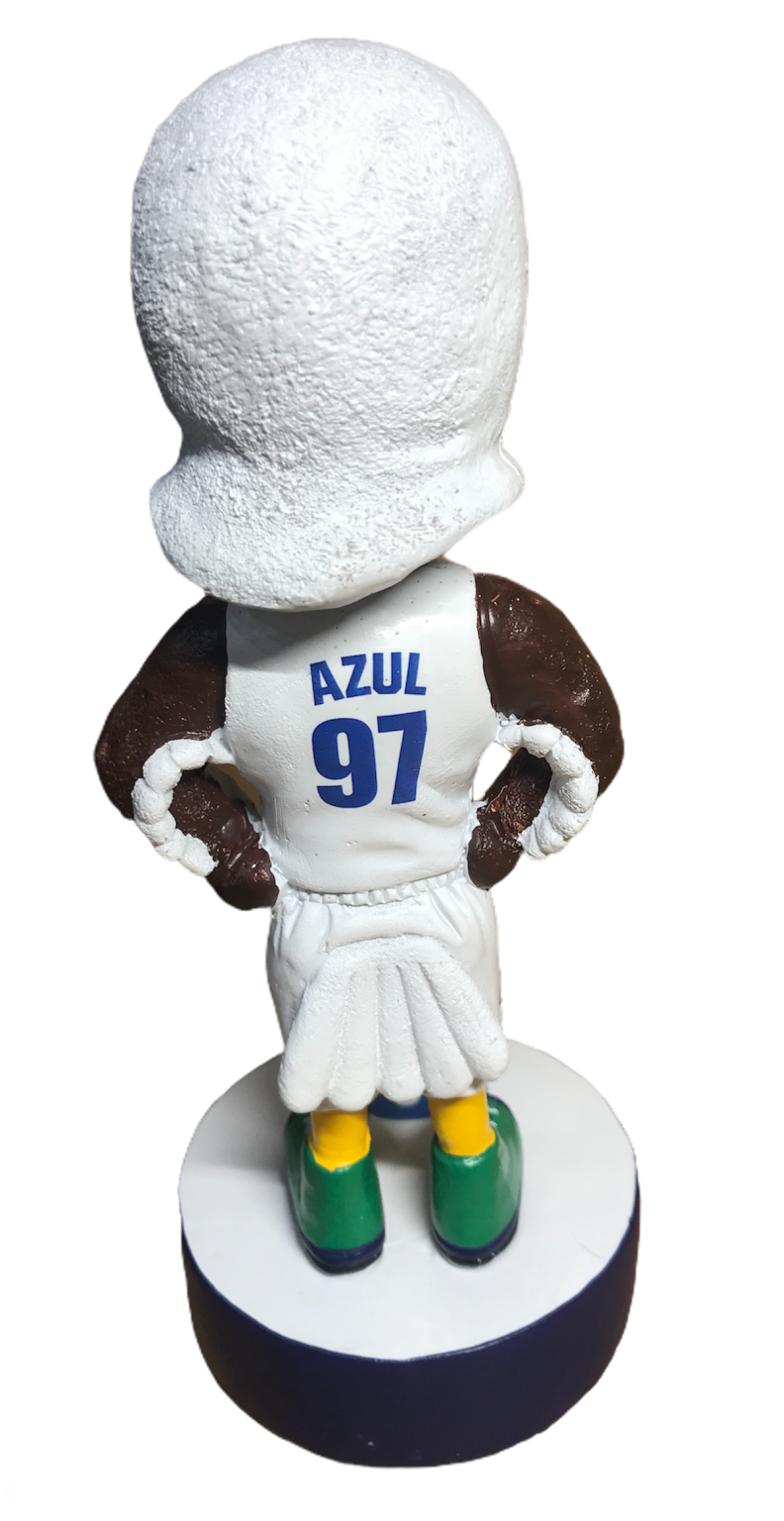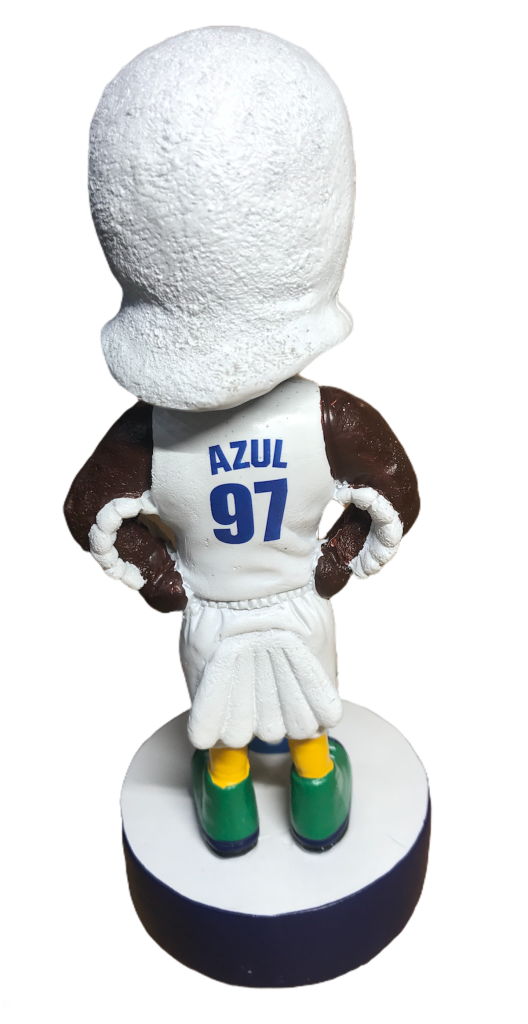 To commemorate the 25th anniversary of FGCU, the University commissioned this custom bobblehead of Azul, the university mascot. 
 The bobblehead measures 7.5" high with a 3" diameter base. 
 Custom molded and painted to mirror the actual mascot, the bobblehead price was under $10.00 each for 500 copies
The project was designed to showcase this Official Walt Disney World hotel to professional meeting and convention planners. We went old-school and sourced this rotary slide viewer with professionally photographed property amenities from a planner's perspective. The promotion features a 3-dimensional mailer and custom die cut brochure to support the rotary slide concept. Results were stunning as inbound inquiries rose by 354% during the promotion period.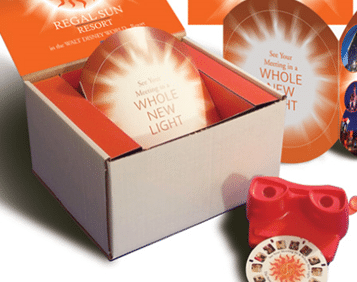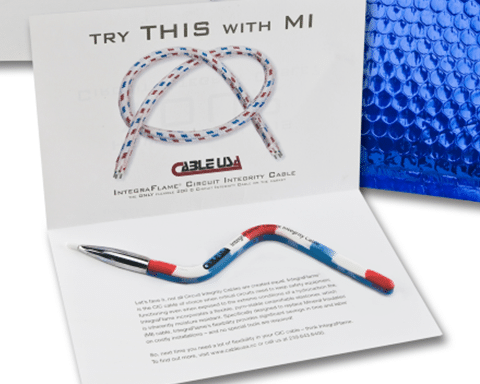 Cable USA needed to communicate that it's IntegraFlame CIC cable products were superior to the competition's cable. The competitor's cable requires rigid conduit with special mineral-based insulation, translation: higher product and installation cost. IntegraFlame's unique feature is its flexibility – no conduit required!
We used a simple 4-page, 5.50" x 8.50" folder with a flexible rubber pen along with an illustration of the product tied into a bow. The copy explains the features and benefits of IntegraFlame and invites the reader to call or write for more information. The 3D mailer was sent in a bright blue foil bubble envelope to a highly targeted list. 250 pieces were mailed, and the campaign generated 163 responses and 89 requests for quotes.
We created a dimensional mailer that leveraged Huntington's innovative business solutions with Apple. The mailer contained the book "The Apple Way" which spoke to Apple's innovative management solutions. When the prospect meets with the Huntington representative, they would receive an iPod shuffle. The design followed apples shuffle packaging to create continuity within the program. Apple was consulted with and approved the direction and the design.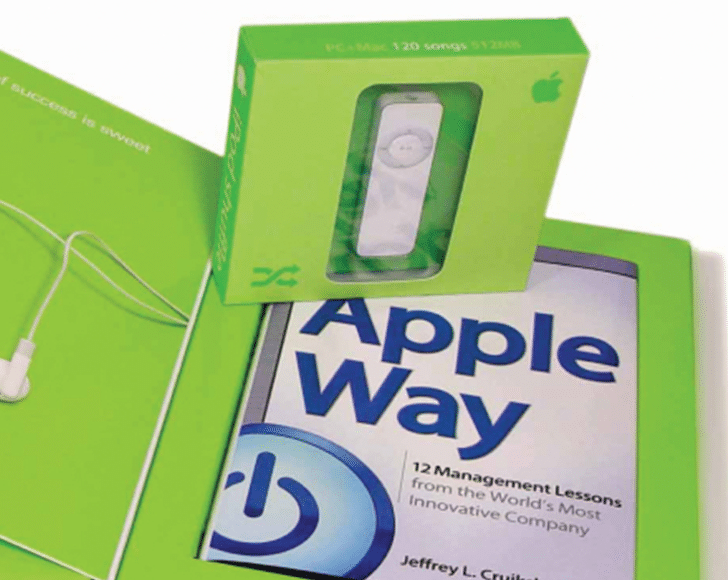 The purpose of this dimensional direct mail piece was to recruit physicians into MDVIP by communicating how the company can help them avoid getting burned out in today's healthcare environment. The core message was that MDVIP offers a way to protect their practice and their passion while enriching their lives both personally and professionally.
In designing this SmartTARGET direct mail campaign, our goal was to break through the clutter of traditional direct mail. We realize that physicians are busy and inundated with mailings, so our team wanted to create an invitation that would catch their attention, deliver a compelling message, and reflect the upscale nature of the event.
Fifth‐Third Bank's Southwest Florida region was looking for a unique incentive for new deposit customers in support of their rapid growth strategy. Ideally, they wanted the promotional item to reinforce the SW Florida lifestyle: sun, fun and casual living.
One item we found that really caught their attention were these custom Flip Flops. Two different models were ordered to pro‐vide their customers a choice when opening their new account. Both models feature a die‐cut 53 logo on the bottom sole that leaves a cool impression in the sand.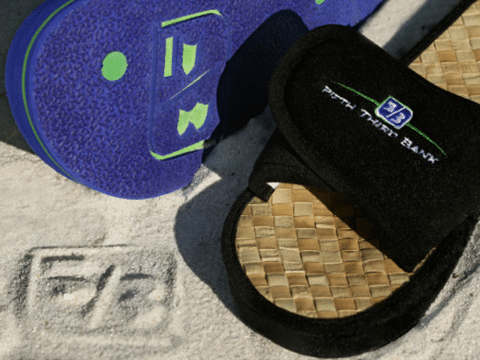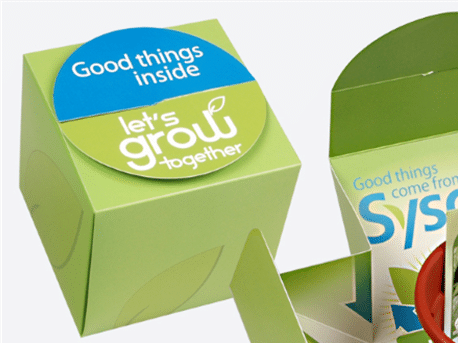 This tradeshow invitation proved to be an effective tool by targeting new prospects to attend the SYSCO Food Show. The "green" theme, "Let's Grow Together" was punctuated with a planter, soil and seeds that came in the custom designed package. The intricate die‐cut box served as the invitation with show information printed on the inside. 250 new prospects were targeted. 76% of those sent the mailing visited the SYSCO booth.
Triple Crown Services needed to develop new sales tools – and fast. We got busy and created new sales collateral, direct mail campaigns and promotional tools. We determined the most expeditious way to make these products available to their regional staff was an online branded company store. The branded store allowed the sales staff to view the available items, price points, quantities, etc.
Branded company stores are extremely effective for decentralized sales staff, distributor networks, franchisee networks as well as for universities.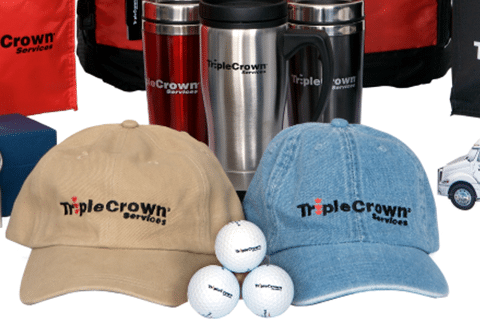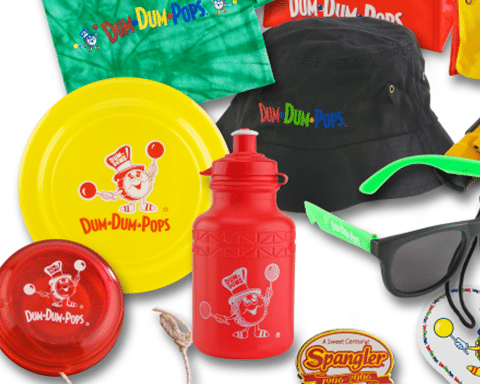 Spangler Candy tapped Creative Marketing Services to support their "Save Wrap" program with unique, high-quality promotional items. This program encourages the consumer to exchange their Dum Dum wrappers for branded merchandise. The promotional items had to appeal to a wide variety of consumers in 6 different price points. In addition, the promotional items had to have longevity to ensure continuity in Spangler marketing efforts.
Bard manufactures HVAC equipment and sells through a multi-channel distribution network. Bard challenged us to create an online store that could be utilized by their rep groups, distributors and contractors. The Bard Promo Store had to feature a variety of apparel, promotional items and signage – all with pre-approved branding and color palette.